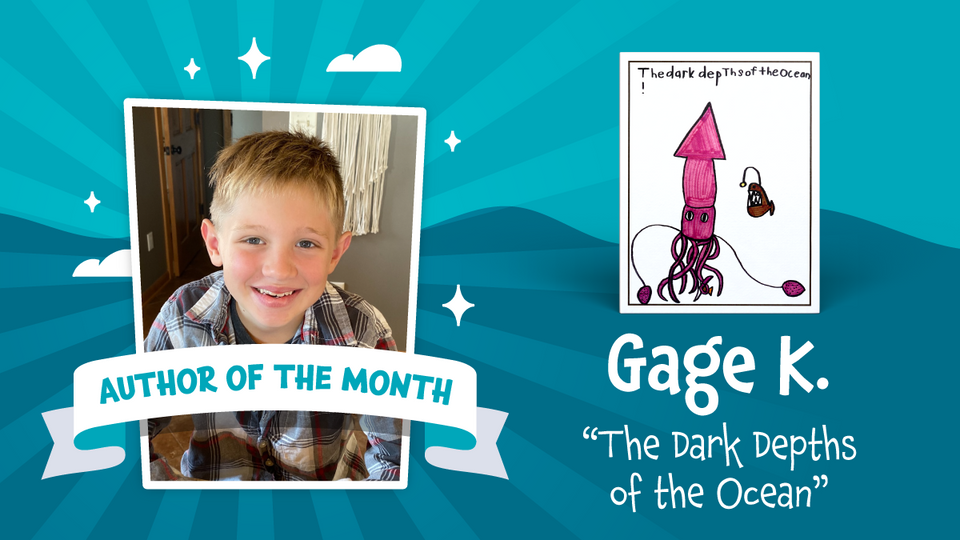 Author of the Month - Gage K.
We're kicking off this year strong with a great story this month filled with fun facts about squids! Gage wrote the story "The Dark Depths of the Ocean." We definitely learned some new fun things and are excited to share Gage's story with you. Let's get into it!
It is very dark in the depths of the ocean. So dark, that we need a flashlight for this journey.
Gage's Squid Facts
Squids can be all different colors. When a squid finds a mate, it will change colors.

Prepare yourself for this gross fact… the food for a squid goes down through it's brain. Yuck!

They can be very big. They are

mollusks

, which means they don't have a skeleton and are boneless. How weird!

When us humans get scared, we may try and hide. When squids get scared, they release ink.

And our final fun fact about squids is that they can squeeze through tight spaces.
It's awesome getting to read and learn some new things at the same time! Thank you Gage for sharing your story with us.
Continue reading to find out a little bit more about Gage and his writing and drawing process!
Read the Full Interview:
Where did you get your Lulu Junior kit? Who gave it to you?
My mom got my sister and I the kit from Amazon.

Where did you get your idea for your story?
We homeschool and we did an ocean unit study and we got to pick our favorite animal that lives in the ocean to write and I picked the squid. This was our writing project for the month.
How does it feel to be a published author?
It feels good and I was proud of myself.
What's the one piece of advice you'd share with another young writer?
I took my time on each page.
What do you like to do when you're not writing?
Drawing.
Do you prefer writing or illustrating? Why?
Illustrating because I love to draw.
What's one of your favorite books?
The Giving Tree.
How do you like to set up your writing/drawing space?
Cleaning my desk up.
What inspires you to write or draw?
Nature and anything that is all around me.
What do you want people to remember about your book?
Practice makes perfect and you have to take your time.