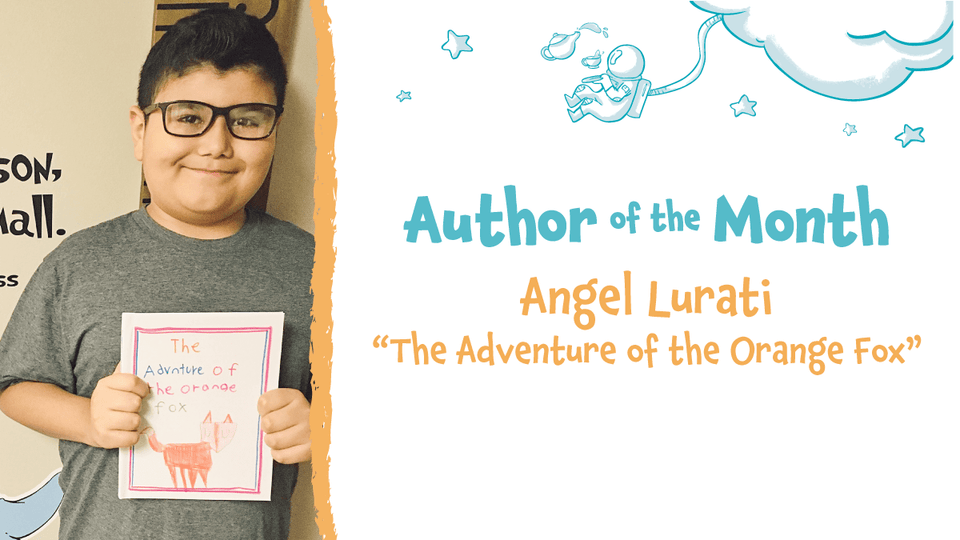 Lulu Junior Author of the Month - Angel Lurati
Our August Author of the Month is Angel Lurati, and his book "The Adventure of the Orange Fox" shows us the importance of paying attention.
The story begins with the Orange Fox. This is a fox that is not only beautiful but also magical. In what way, you ask? Well, he can fly!
He finds himself in a bit of a predicament one day when his pantry is emptied of all the snacks. Even magical foxes need a snack every now and then. Luckily, he knows just where to go to relieve his hunger pangs.
The bakery!
It turns out the Orange Fox's magic really does come in handy when traversing a forest. He is able to fly over the forest and straight to the bakery with no obstacles. Must be nice!
When he lands at the bakery, he stocks up on every snack you can imagine. Gummies? Check. Oreo cookies? Check. Cinnamon rolls? Check. Ice cream? Check. Hot Cheetos? Check. Holiday pie? Check. Chocolate milk? Check and check.
Oh man, now we want a snack!
Anyway, back to the Orange Fox, who comes to the realization that the snacks will weigh him down too much to fly back a little too late. He has to find his way back home on foot.
Unfortunately, the Orange Fox is missing a key snack-buying component: a bag!
All the snacks are loosely piled on his back as he makes his way to his castle and, perhaps due to all of his attention having to be on the terrain in front of him, they begin to fall off his back and onto the forest floor.
But they do not stay there for long. As the snacks fall one-by-one, they get eaten by mice, squirrels, a baby deer, and Mr. Raccoon.
The Orange Fox notices that he feels much lighter, but he still does not notice his missing snacks. He skips back to the castle, and is even hungrier from his journey when he arrives. That's when he realizes he has no snacks.
The Orange Fox is briefly sad but ultimately not dismayed. He resolves to make the journey back to the bakery to replenish his supply. Hopefully this time, he'll remember a bag!
Angel Lurati says this story came straight out of his imagination, and that letting it run wild was his favorite part of writing and illustrating the book.
His advice for young authors is to have fun when writing… oh yeah, and to always remember to look out for your sweets!
We know we will be reading more of Angel's work in the future. Maybe it will be about a teleporting dragon! I don't know. I'm just guessing.
Thank you for sharing your story with us, Angel! We enjoyed reading it, and we loved your creative illustrations. We know others will as well.
---
Read the Full Interview:
Where did you get your Lulu Junior kit? Who gave it to you?
My Mom, purchased the Lulu Junior kit for me from Amazon.
Have you always enjoyed writing?
Yes, I enjoy writing.
Where did you get your idea for your story?
I got my idea from my crazy imagination.
Fox has many sweets that he picks up at the sweet shop, what's your favorite sweet?
My favorite sweet was the cinnamon roll.
What was your favorite part about writing the book?
My favorite part about writing my book was letting my imagination run wild!
How did it feel to see your story published into a book?
It felt so good to see my book published. 
Who did you dedicate your book to and why?
I dedicated my book to my couch potato dog, Oliver.
What do you want people to remember about your book?
I would like people to remember to always keep an eye out for your sweets when walking home.
Do you have any advice for other young authors?
Have fun when working on your books.