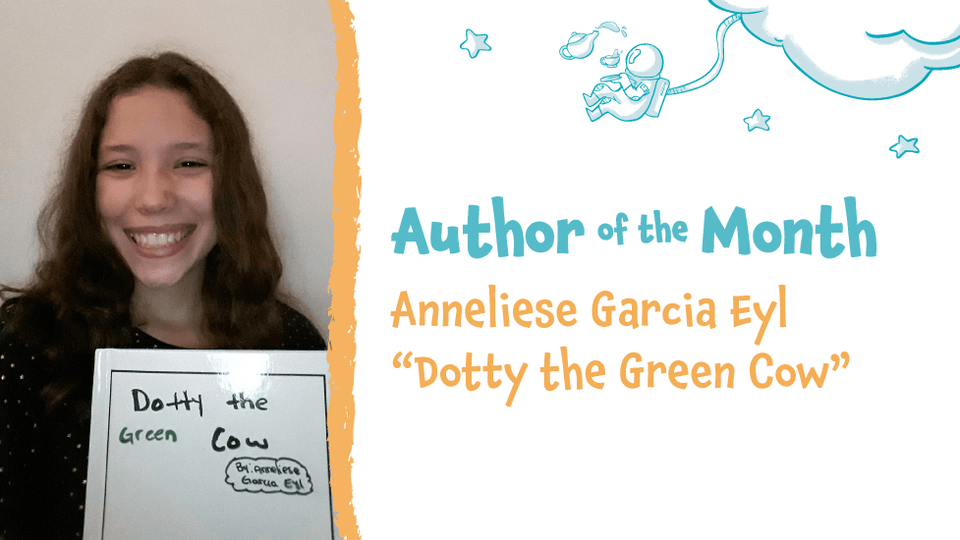 Lulu Junior Author of the Month - Anneliese Garcia Eyl
It is officially summer, and what better time to celebrate our differences than right now? Anneliese Garcia Eyl's book helps us do just that!
Our July Author of the Month wrote her story, "Dotty the Green Cow," to remind us that we should be excited about what makes us unique because there is truly no such thing as "normal."
We meet Dotty as she is being called by Farmer Hermann to be milked with the rest of the cows, but unlike her fellow cows, Dotty's routine includes one additional thing. Each morning, she is made fun of by her black-and-white peers for being green.
The other cows make Dotty cry every single day, and she often wonders how her life would be if she were black-and-white like them.
One fateful morning, Dotty happens upon Christa the Caterpillar, who tells Dotty that she possesses the ability to turn Dotty black-and-white like the "normal" cows, but there is just one condition: Dotty must first make a friend.
Dotty wonders how she could possibly make a friend when all of the cows she knows shun her for her differences. Just when she is losing all hope, Farmer Hermann introduces the farm to his newest cow Terence.
Much like Dotty, the other cows do not befriend him because he looks "different" from them, and he and Dotty are able to bond over this.
Dotty presents Terence to Christa, introducing him as her friend, but with Terence there to validate her uniqueness, Dotty decides she does not actually want to be black-and-white.
When they return to the farm, Dotty and Terence begin to be mocked by the other cows once more, but Terence explains to them that he and Dotty are not weird. They're unique!
The other cows begin to understand that they are all different as Terence points out to one cow, Justina, that she has six spots, while he and Dotty have five spots. All of the cows are different even if some of the differences aren't as obvious as others.
The entire farm apologizes to Dotty and Terence, and they are able to forgive them and finally become friends.
In our interview with Anneliese, she told us that writing is her favorite subject in school and also her favorite way to express herself creatively. She actually began writing "Dotty the Green Cow" in 1st grade and decided to publish it after she added more details.
She was excited to see how much her writing has improved since then.
Everyone has unique features just like Dotty, and this is what Anneliese hopes readers take away from her story.
She told us that her most unique feature is her smile, and we love it just as much as she does!
If you are thinking of writing a story like Anneliese, she wants you to remember that passion is important, but so is paying attention to details like grammar and spelling. Writing is fun, yes, but completing and publishing a story like Anneliese's takes work too!
Thank you so much for sharing your wonderful story with an equally wonderful moral, Anneliese! We look forward to reading more from you in the near future.
---
Read the Full Interview:
Who gave you a Lulu Junior kit?
I got my Lulu Junior kit from my parents at Christmas since they know that I love to write.

What sparked your interest in writing?
I have always enjoyed writing it's an amazing pastime and I love it. You can express yourself and have fun with it. It's also my favorite subject at school.

What inspired you to write "Dotty the Green Cow"?
Dotty the green cow was actually a book that I wrote in 1st grade. I read the book, improved it, and added more detail to it.

"Dotty the Green Cow" is about embracing our uniqueness. What do you believe is your most unique quality?
My most unique quality would be my smile! I'm very joyful, and I love it.

What was your favorite part of writing this story?
My favorite part of writing the book was that I got to remember how much I have improved with my writing since 1st grade.

How did you feel when you saw your published book?
I felt so happy when the book came in hardcover and everything!!! It was an amazing feeling!

How did you decide to dedicate the book to your dad?
I dedicated the book to my dad because it was his birthday.

What do you want people to remember most about your book?
What I want people to remember about my book is that they should always be unique no matter what!

What is your advice for younger authors?
My advice for younger authors is to always write what you are passionate about and that even though checking spelling and punctuation isn't the fun part of writing, it's needed.

Do you plan on writing more stories in the future?
I actually wrote another book called the ocean book, which is being published right now. It's about how a book is a tele transporter to what they read.