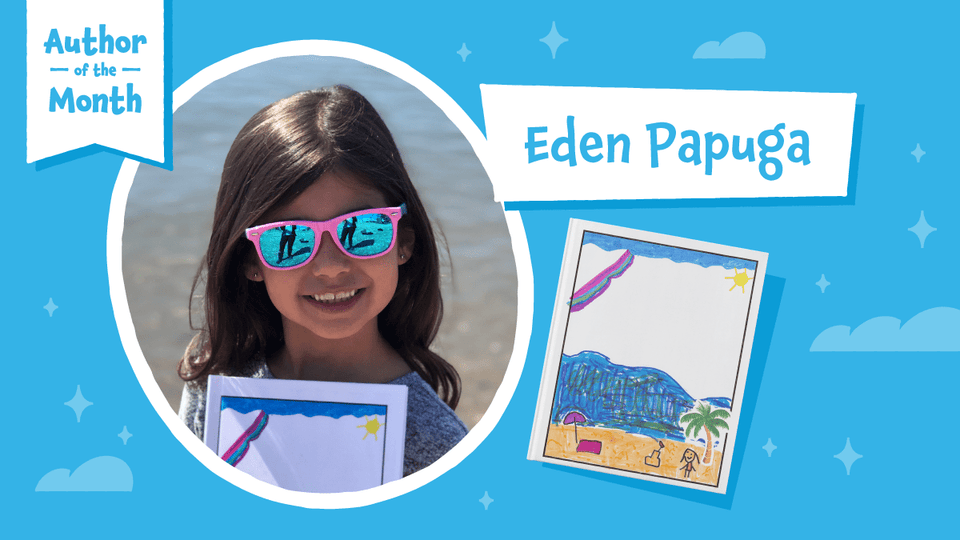 Lulu Junior Author Of The Month - Eden Papuga
Summer is officially here and what better way to start off June than with an adventure and a great time at the beach!
June's author is Eden Papuga and her story is "My Favorite Place."
My Favorite Place
Eden's story is about her favorite place in the world, the beach! Let's see what details Eden gives us about her time, what sounds like a picture-perfect vacation! Just reading through her story has got me ready to hit the coast. Pass the sunscreen, we're ready for the salt, sand, and sea!
In the summer, she loves to dance in the ocean, play with her toys, and collect sea glass.
She has been to 12 different beaches. Fort Myers Beach in Florida is her favorite so far. Eden visited with her family. While she was there, she experienced a special moment where she got to go far out into the ocean because she had found a sandbar!
Eden has a dream that she can hopefully visit again with her entire family. Summer has finally arrived and the beach is calling! 
A massive thank you to Eden for letting us feature "My Favorite Place" for June! We can't wait to see what kind of story and experience you have for your next book.
Keep reading to find out what else Eden had to say in our interview!
Read The Full Interview:
Where did you get your Lulu Junior kit? Who gave it to you?
My mom.
Have you always enjoyed writing?
Yes!
Where did you get your idea for your story?
I just thought about me and my favorite things.
What was your favorite part about writing the book?
Doing it with my mom!
How did it feel to see your story published into a book?
I felt good and excited.
Who did you dedicate your book to and why?
My Kiki, Papa, (grandparents) and my cousin Nana. Because they are a part of my family and Nana is having a baby so she can read my book to the baby.
What do you want people to remember about your book?
That I love the beach.
Do you have any advice for other young authors?
That they should keep going and they shouldn't stop!
What will your next book be about?
I don't know because my mom says I will get another kit next year and I don't know what I will want to write next year.
Who is your favorite author?
Aaron Becker.