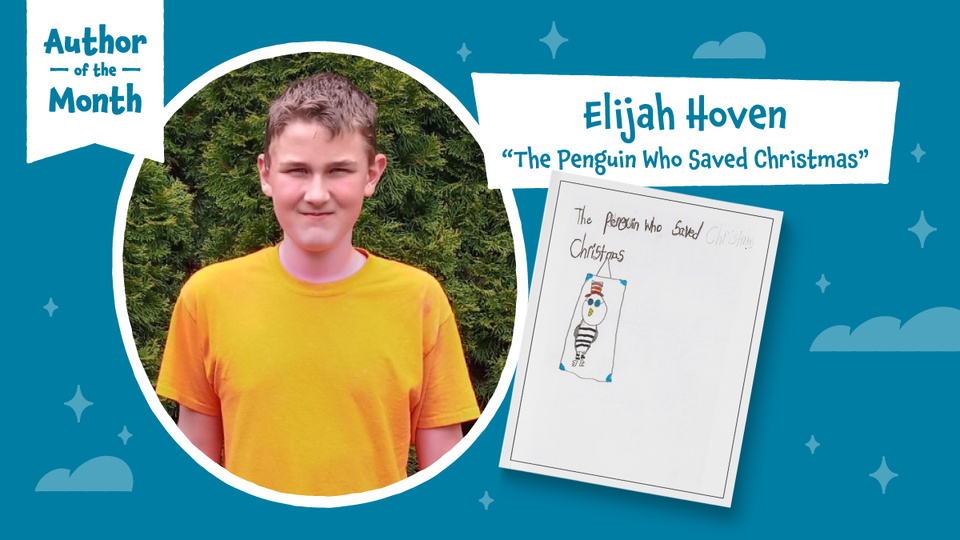 Lulu Junior Author Of The Month - Elijah Hoven
This month we are featuring Elijah Hoven! He wrote the creative story, "The Penguin Who Saved Christmas." How many times have you heard a story about a penguin being the hero of Christmas? It's definitely our first time!
We are introduced to a penguin named Rashu who lived in the cold Arctic. He dreamed of becoming a mailman one day. He loved to sing and all the other penguins agreed he has a lovely voice. At Christmas time, the other penguins would listen to Rashu sing.
One day, Rashu heard footsteps. It turned out to be a human that was carrying a sword. He introduced himself as Eric Launie who worked at the zoo that rescued penguins. He put Rashu in a cage and they left the Arctic.
They were on their way to the Hollywood Zoo. It was a bumpy and rough ride with a lot of rocks but they finally made it. It was Christmas Eve.
The mayor of the town, Mayor Leafbaite came to visit Rashu. The Mayor said, "He will do for our annual Christmas Celebration!" 
Rashu was able to stay at the building where Mayor Leafbaite worked instead of the zoo. Christmas was here and it was time for the celebration! But things were not starting off in the way the Mayor wanted…the band had quit! It was beginning to become a catastrophe. The Mayor said "I need someone to be funny, someone like a mailman."
Rashu tweeted at the Mayor: he could help! Mayor Leafbaite told Rashu that he was the smartest penguin he had ever met. The Mayor started working on a bright yellow sign to bring attention to their event. The evening was going well and the crowd seemed happy. Santa Claus was there and ready to go and he realized that he had forgotten the presents! Another catastrophe! Unfortunately, once the crowd heard this they started leaving. Santa apologized but the people ignored him.
What would they do??
The Mayor's mood quickly changed. In his eyes, Christmas had been ruined. He even told Rashu "You are not a hero like I thought you were!" He began stomping around, not knowing what to do and trying to figure out what they should do about Santa and the presents when Rashu tweeted at him. Rashu suggested that they could buy bikes and deliver them! Mayor Leafbaite thought this was a great idea and added that he could blast fireworks.
Santa and the Mayor were grateful to Rashu. He had saved Christmas and had become a hero after all!
It had been an eventful day for everyone and on the 26th, it was time for Rashu to head back to Hollywood Zoo. This was just the beginning for Rashu. The Hollywood Zoo was going to become famous!
We are glad it all worked out for Rashu and even though he wasn't able to become a mailman…. He at least was able to save Christmas for everyone!
Thank you Elijah for sharing your story with us! Interested to read what Elijah had to tell us in his interview? Keep reading to find out more!
---
---
Read The Full Interview 
Where did you get your Lulu Junior kit? Who gave it to you? 
I got it from Amazon and it came from my Aunt 
Where did you get your idea for your story? 
I love penguins and it was almost Christmas so I combined them together.
How does it feel to be a published author?
It feels amazing and I can't believe it!
What's the one piece of advice you'd share with another young writer? 
I would say make your book interesting so that readers will want to read it. 
What do you like to do when you're not writing? 
I like to run!!!
Do you prefer writing or illustrating? Why? 
I like writing better because then I can imagine stuff better.
What's one of your favorite books? 
The One and Only Ivan.
How do you like to set up your writing or drawing space? 
I like to set it up in my living room.
What inspires you to write or draw?
The local zoo; that's how I learn to brainstorm.
What do you want people to remember about your book? 
To keep dreaming.