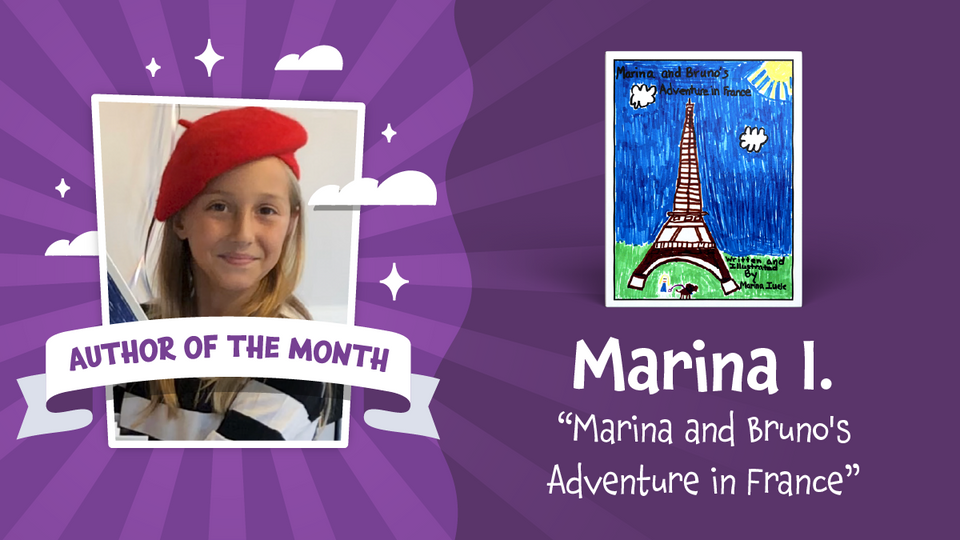 Lulu Junior Author of the Month - Marina I.
This month, we are featuring Marina who wrote "Marina and Bruno's Adventure in Paris." As a newly published author, Marina even hosted her own book signing! We love to see Lulu Junior authors get excited about their hard work! Let's dive into Marina's adventure with Bruno.
Marina and Bruno woke up early to start their long flight to Paris, France. Mimi, Marina's grandmother, drove the duo to the airport where they ended up having to wait 2 hours until they officially started to board their flight. Marina told Bruno it was very important that they didn't lose the berets that Mimi had given them as a gift!
After long travels, they finally arrived in Paris at The Blue Beret Hotel, where they were staying for their trip. They unpacked and made their way to The Biscuit Cafe where they, of course, wore their berets!
They cruised around the city on a bicycle with a basket so that Bruno could sit and feel the wind hit his face. They came to the White Rusty Bridge where they caught the sunset that glistened over the water and even came across a mime in a red beret.
Marina and Bruno returned to the hotel for some much-needed rest. In the middle of the night, Marina heard Bruno tiptoe out of the room. Where was he going? Marina followed him and found him getting a warm cup of milk. As they both walked back upstairs, they realized that Bruno's beret was gone! It no longer was hanging on the hook where they had left it.
As you can imagine, Bruno was upset. They had to wait until the morning to look for the gift from Mimi. They set their alarms so they could be up to start the search!
They started at the bridge and nothing was there. They asked a woman nearby if she had seen a red beret, which she hadn't. But she did let them know that if they were looking for hats, they could try the thrift store that was down the road.
Marina and Bruno made their way to the thrift store on their bikes. As soon as they walked in, they saw the red beret hanging on a hook! They made sure it was Bruno's and checked and saw it had his name written on the inside. 
They explained the situation to the woman who worked at the thrift store and she let Bruno and Marina have the beret back for free!
Time for celebration! Marina and Bruno spent the afternoon eating crepes and visiting the art museum. And soon the adventure was over, and it was time to head back home.
Mimi picked up the pair and was happy to see them in their berets. Bruno and Marina looked at each other and smiled. 
A great ending to Marina and Bruno's adventure. Can you believe that this story idea came to Marina in a dream? Thank you to Marina for sharing your story with us. We can't wait to see what type of ideas Marina has in store for her next published book!
Keep reading to see what Marina shared with us in her interview!
Read the Full Interview:
Where did you get your Lulu Junior kit? Who gave it to you? 
A Christmas gift from Mimi (grandmother).
Where did you get your idea for your story?
It was from a dream I had.
How does it feel to be a published author? 
It feels great! I feel accomplished.
What's the one piece of advice you'd share with another young writer? 
Believe in anything you think you can do. And do it.
What do you like to do when you're not writing? 
I like to play and be imaginative.
Do you prefer writing or illustrating? Why? 
Illustrating. It's fun to draw pictures.
What's one of your favorite books? 
The Poet's Dog
How do you like to set up your writing/drawing space? 
Usually at my desk.
What inspires you to write or draw? 
I am inspired when I see how great other people's books are. And deciding, I could do that, too.
What do you want people to remember about your book? 
That it was inspired by a little dream.
---
Do you know an author who is interested in sharing their story with us?  Please complete this form for a chance to be featured as Lulu Junor's Author of the Month!
---