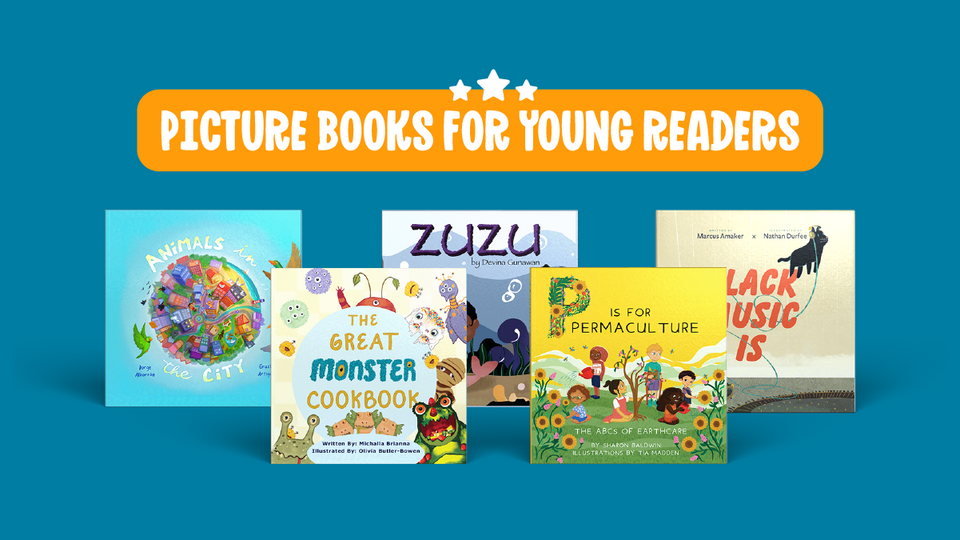 10 Picture Books to Inspire Your Young Readers
Looking for a great new book for your young readers? Buying and reading books by self-published and indie authors is a fantastic way to find new stories that the whole family will love! 
The Lulu Bookstore or our Children's Book page have so many amazing books by indie authors and creators, but how can you pick out the best ones for your child?  Don't worry - we've done that for you. Check out this list of ten of our favorite picture books (perfect for young readers ages 3-8) available in the Lulu Bookstore: Inspiring Picture Books
Inspiring Picture Books
Today I Am Me
Author and illustrator Meg Stafford explores the beautiful things that make us all special and unique - and, in turn, how those things unite us - through the lense of animals we know and love. With a sweet message about celebrating our differences, beautiful illustrations, and fun little tidbits about all different kinds of animals, Today I Am Me is a great read for little animal-lovers! 
---
Rainy the Little Raincloud
This charming and heartwarming picture book tells the story of Rainy, a little rain cloud who worries that as a rain cloud, people are disappointed whenever he's around. With the help of Mr. Thunder, Rainy comes to realize just how important and valued he really is! Filled with cheerfully bright illustrations and an equally cheery message, Rainy the Little Raincloud is a sweet read for the whole family. Show your kids that everyone has the power to make the world a better place with Rainy!
---
Zuzu
See the magic of the world through a child's eyes in this imaginative and inspiring picture book! Where adults might see a simple chore like taking a bath or making breakfast, Zuzu sees adventures like exploring the lost city of Atlantis and defending the kingdom in a fierce battle. Ask your little readers what exciting opportunities they see in their everyday life when you read Zuzu together.
---
Outdoor Adventures
P is for Permaculture
Teach your kids about the environment, nature, sustainability, and earth-conscious living as you read together through the ABCs of permaculture! With gorgeous illustrations for each letter and a fun, read-out-loudable rhyme scheme, P is for Permaculture picture book is both educational and entertaining.
Looking for a book for an older reader? Sharon Baldwin also has a series of chapter books for the adventurous, outdoors-y kid! Learn more about The Gardeneers here.
---
Animals in the City
Looking for the perfect storytime book for your young animal-lover? Any big fans of The Secret Life of Pets in the family? Animals in the City takes a charming "insider" look at the lives of all different cats, dogs, and birds living in and out of the city! Filled with bright, beautiful illustrations and fun facts about different animals, this picture book is sure to be a hit with everyone in the family.
---
The Tree Across the River
A young tree knows that the river he lives beside is a source of life for himself and his critter friends, and yet he can't help but wish that the river wasn't there to separate him from the tree on the other bank. When he makes the dangerous but faithful leap to hopefully be united with the other tree, he learns that anything is possible when they support each other! This heartwarming story of finding and fighting for love, and learning the importance of leaning on your loved ones when you need them, is a sweet and unique look at life, love, and nature.
---
Bear Foot
Humphrey the bear finds an incredible surprise in the woods one day when he comes across a pair of running sneakers. Though they first make him fast and agile, Humphrey quickly learns that the shoes actually hinder his own natural ability to connect with his forest home. With a bright message about making the most of your own gifts, author, illustrator, and endurance runner Richard Jansen channels his own love of minimalist and barefoot-style running shoes into this fun picture book.
---
Educational Children's Books
What is Privilege?
It's so important to be able to speak to our kids about the social and cultural issues we tackle daily as a society, but it can be hard sometimes to break these adult topics down to a level easily understood by children. Authors Ashley Gooding & Kayla DeWalt have created an amazing educational resource for children and adults alike with What is Privilege, an illustrated taxonomy of important social issues explained simply. Ready to inspire little minds to make big changes? What is Privilege includes online resources to help the whole family learn and get involved.
---
Black Music Is
South Carolina's Poet Laureate Marcus Amaker takes readers on a journey through the incredible and awe-inspiring history of Black music through the eyes and ears of Bebop the cat (named in honor of the music style famously performed by Dizzy Gillespie!). Celebrate the history, culture, and achievements of Black musicians in five different genres of music in Black Music Is, perfect for music-lovers young and old.
---
The Great Monster Cookbook
Looking for a fun way to connect with your kids that aren't really big readers? Get them involved with a family cooking adventure! These monstrous recipes are kid-friendly both in terms of ingredients and skill level, and can easily be enjoyed by the whole family. Make food fun with these unique and healthy recipes from The Great Monster Cookbook!
---
For more picture book recommendations, be sure to follow Lulu Junior on Instagram (@lulujrdotcom) where we highlight a new book every Friday! Feeling inspired to make your own? Get the whole family involved with a Lulu Junior book-making kit; learn more about our IlluStory and My Comic Book kits here: