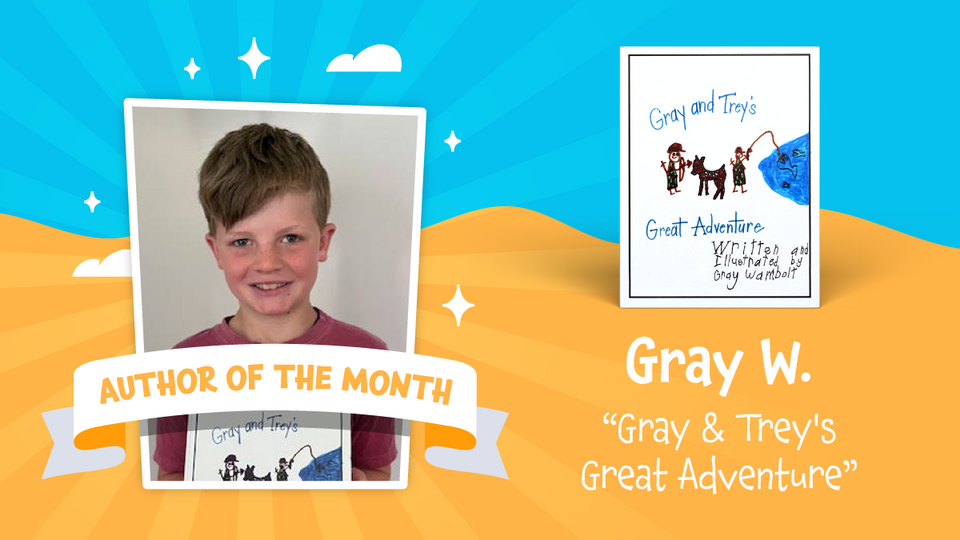 Author of the Month July - Gray W.
Summer is all about adventures, and we've got a fun story for July! This month's story is "Gray and Trey's Great Adventure" written by Gray. This story takes us all through the woods as the brothers come across some unexpected finds. Let's get into it!
Gray and Trey's adventure starts in the woods. They eat marshmallows and spend the night under a tree. When they wake up the next morning, they see a bear in the tree! What were they going to do?
When the bear isn't looking, they decide to sneak off to the creek to go fishing. They catch a big fish. They built a fire and cooked their fish which was delicious!
It was time for a hike after a great meal. On their hike, they find a super high tree fort. It's a big fort. Really big. As they climb, who knows what they would find? 
It was a whole ninja course. Gray and Trey decide to go on the zipline. It's a little scary, but it fast and fun!
The sun is starting to go down so the boys decide to sleep in the tree fort for the night. When they wake up the next morning, it's time to go home… but they realize that they are lost. With this realization, Trey starts to get sad, but Gray isn't scared.
They head towards the creek. There happened to be a log that went across the creek so they're able to walk on it to get to the other side. They come upon a campfire and they knew they were on the right path back home. Gray smells something delicious and smiles because he knows… they're back home!
It was awesome to read a story inspired by Gray's love for playing in the woods! Thank you Gray for being our July Author of the Month.
Read our interview with Gray to find out more about his writing experience and what he wants us to remember about his book.
Where did you get your Lulu Junior kit? Who gave it to you?
I got it from my grandma.
Where did you get your idea for your story?
I thought of an adventure in the woods. My brother Trey and I are always adventuring together. I wanted to remember our adventures by writing a story.
How does it feel to be a published author?
I feel good that I accomplished making the book.
What's the one piece of advice you'd share with another young writer?
It is really fun to use your own imagination to write a story.
What do you like to do when you're not writing?
Play in the Woods
Do you prefer writing or illustrating? Why?
I prefer illustrating. Because it's really fun to draw the pictures and whatever you want comes to life.
What's one of your favorite books?
The Secret Garden
How do you like to set up your writing/drawing space?
I don't set it up. I just start writing and drawing anywhere!
What inspires you to write or draw?
Using my imagination I think up stories, and then it inspires me to write or draw them.
What do you want people to remember about your book?
How adventurous Gray and Trey were.