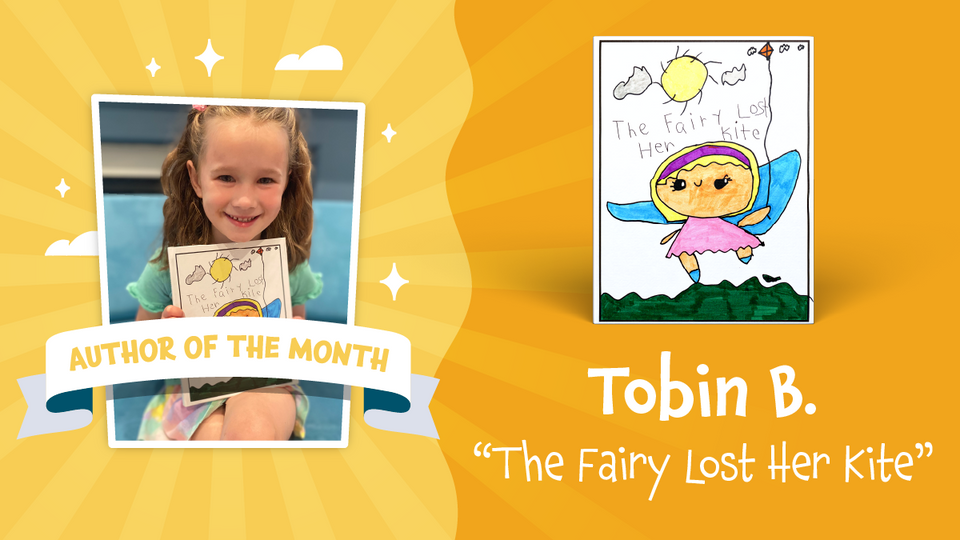 Lulu Junior Author of the Month - Tobin B.
Summer has arrived in the blink of an eye! This month, we've got a great story that fits right into those Summer vibes with some kite flying. Our June featured author is Tobin who wrote the story, "The Fairy Lost Her Kite." Let's find out what happens in Tobin's story!
There once was a fairy named Lisa. She loved to fly her kite. One day, it was so windy that it blew her kite away. Lisa was very sad!
Lisa ran to her parents after she lost her kite. Her dad gave her a magic rope. With the rope in hand, Lisa flew way up into the clouds to grab her kite. The magic rope worked!
Lisa ran back to her dad and returned the magic rope. "Thank you, Dad!" said Lisa. "I love you." Lisa was so happy to get her kit back that she flew it all day long.
Tobin's story leaves us with a great message that we can all appreciate; "help others when they are in need." Thank you Tobin for sharing your story with us!
Check out our interview with Tobin to find out more about her own writing experience!
Read the Full Interview:
Where did you get your Lulu Junior kit? Who gave it to you?
My Auntie Lauren gave me the kit for Christmas.
Where did you get your idea for your story?
I wanted a pretend book that I don't have at my house. I wanted a book that could remind people how parents can help their daughters and how they can help other people too. 
How does it feel to be a published author?
It feels like I'm an artist and it makes me feel excited. 
What's the one piece of advice you'd share with another young writer?
First ask yourself the question, "What kind of title do you want?"
What do you like to do when you're not writing?
I like to learn how to draw new ideas, play with my brother, and play at the playground. 
Do you prefer writing or illustrating? Why?
I like drawing more because I like to see what other people think of my drawings.
What's one of your favorite books?
And Tango Makes Three
How do you like to set up your writing/drawing space?
I like to sit at my desk with all of my art supplies. 
What inspires you to write or draw?
I am inspired by nature like trees, flowers, and butterflies. 
What do you want people to remember about your book?
I want people to remember to help others when they are in trouble.