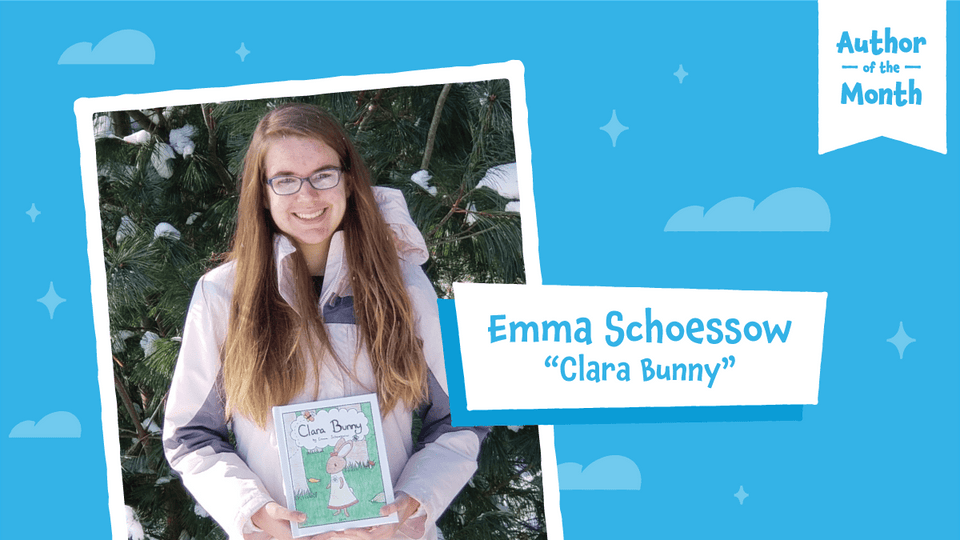 Lulu Junior Author of the Month - Emma Schoessow
Our December author of the month is a special one! Emma Schoessow participated in Rainbow Resource's 5th Annual Summer Book Contest and was their OVERALL winner for her story, Clara Bunny. With over 200 entries for the book contest, we want to say a BIG congratulations to Emma on her incredible achievement!
Emma's story introduces us to Clara Bunny who lived under a big green bush with her family. One day, she asks her mom permission to go visit the apple orchard with her little brother, Taitertot. Her mom tells her to not eat too many apples or else she'll get a bellyache.
Now, what's a bunny to do when she arrives and sees so many delicious apples underneath the trees just waiting to be eaten? Eat as many as she can, of course! Taitertot tried to remind her of what their mother had told her…"If you eat too many apples you'll get a bad bellyache!" But Clara Bunny just couldn't resist… and she suffered the consequences.
Clara Bunny and Taitertot limped back to the house where their mom was waiting. She told Clara Bunny to go to bed and rest. When Clara Bunny woke up in the morning she felt much better and was ready for her next adventure!
She asked her mom of she could go play with Nolan the Hedgehog. And her mom reminds her to be careful and not get pricked by one of his quills. 
Clara Bunny runs off to find Nolan and wants to get a hoggyback ride (equivalent to a piggyback ride, but we are talking about a hedgehog here, not a pig). As soon as Clara Bunny tries to get on, her toe gets caught on one of his quills. OUCH!
As she's rubbing her foot, she decides it's time for her to go home. Another rough day, again… after not listening to her mom's advice. Clara Bunny came home to her mom to go rest until she could walk normally.
A couple of days later, Clara Bunny was all better. She was ready to go play at the creek. This time though, her mom asked to come along. I think she was realizing that there was a pattern happening and maybe it was best if she went along to give some supervision.
They made their way down to the creek and Clara Bunny saw the otters and shouted out to her friend Silas who invited her to jump in the river to swim with the other river otters. Excited, she went and was readying herself to jump in the water when her mother grabbed her paw and exclaimed, "Wait, Clara Bunny! You can't go in! You don't know how to swim!" Clara Bunny didn't care and jumped! But she couldn't swim, she thrashed and thrashed as she struggled to stay above water and she began to sink deeper and deeper into the water with barely her ears showing…
But Silas to the rescue!! He was able to spot her just in the nick of time and carried her to the bank.
Clara Bunny awoke to her mom and Dr. Brenna Rabbittail who gave her some unexpected news. It turns out that Clara had taken in too much water to her nose before Silas saved her and this resulted in her having a constant twitch in her nose. Dr. Rabbittail informed her that she was unable to fix it but offered her some sound advice. She told her "...let your twitching nose serve as a reminder to you and generations to come to obey your parents."
The writing contest theme for this year was to write a fable and Emma's moral of the story here, "Always obey your parents, or you too will get a twitchy nose."
Another huge congrats to Emma and her win with a great fable and not to mention some amazing artwork (just check out that book cover!)
---
Read the Full Interview:
Where did you get your Lulu Junior Kit? Who gave it to you?
My mom bought it for me through Rainbow Resource Center.
Have you always enjoyed writing?
I've enjoyed writing since the age of eight.
Where did you get your idea for your story?
I needed an idea for a fable, since I was entering it for Rainbow Resource's summer writing contest. My mom suggested a story on my little sister Clara and how she doesn't always listen. It was an idea that I could make work, so I turned Clara into a bunny and wrote a fable on disobedience.
What was your favorite part about writing the book?
I probably enjoyed creating the characters in the story the most, since they're based on my family members. I also really liked bringing them to life with my drawings.
How did it feel to see your story publishing into a book?
Relieved - I spent a couple of days in a row working nonstop, so it felt great to see it finally put together.
Who did you dedicate your book to and why?
My book is dedicated to the verse Ephesians 6:1, "Children, obey your parents in the Lord, for this is right." Through the course of the story, this is what Clara Bunny comes to learn.
What do you want people to remember about your book?
Always obey your parents, or you too will get a twitchy nose!
Do you have any advice for other young authors?
My advice is more encouragement: "I can do all this through Christ who gives me strength." (Philippians 4:13)
What will your next book be about?
I am constantly writing stories for my family and myself to enjoy, so I have more than one "next" book.