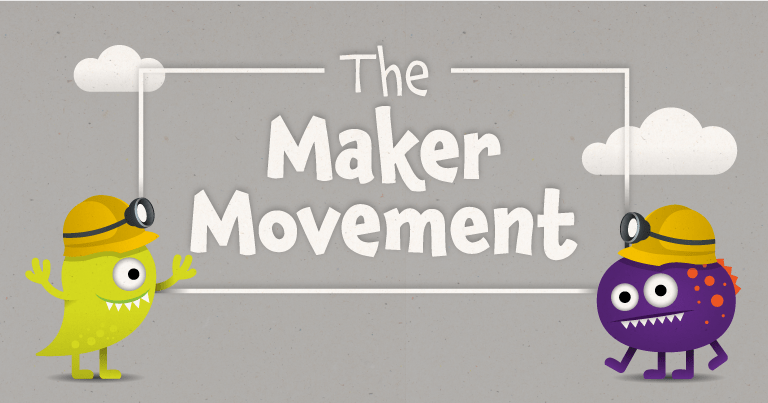 The Maker Movement: Reimagining The Classroom
There's a new wave of entrepreneurship sweeping the nation and the Maker Movement is at the forefront. Once relegated to inventors and techies, the Maker Movement now encompasses people from every industry and walk of life. The Maker Movement has also found its way into schools, presenting new styles of teaching and learning to promote innovation, deeper learning, and independence. Whether you're an educator at home or in the classroom, you can instill the Maker mindset in your little ones.
What is The Maker Movement
The Maker Movement began in 2005, inspired by Make Magazine's issue for inventors and techies. Makers were originally defined as the Tech-inspired DIY community, but today, Makers also include educators, artists, scientists, engineers, crafters, hobbyists, and more.
At Maker Faires, people of all ages bond over their projects and what they have learned. Since the first Maker Faire in San Mateo, California in 2006, the Faires have grown to three major Faires annually in the U.S. each year and many more hosted globally. Additionally, anyone who is inspired can apply to organize a local Mini Maker Faire!
The Maker Movement can be felt across all corners of the globe, so it's no surprise that schools and classrooms are getting in on the action. Makerspaces at school are often located in classrooms, also known as "active classrooms" or "experimental classrooms." These spaces teach higher-order thinking and allow for a deeper understanding of the content. Additionally, they promote skill sets that will aid students for the rest of their lives.
Why are Makerspaces unique?
Makerspaces provide a place for hands-on learning and often have a STEM focus. They're spaces in schools where teachers let their students take the lead. They're a space for students to come up with new ideas and work on their own elaborate projects. Additionally, Makerspaces often provide access to technology or tools that students wouldn't normally have access to at home.
Makerspaces in the classroom:
Advance problem-solving skills

Encourage creativity and curiosity

Applaud new ideas and invention

Foster iterative learning

Build confidence and inspires independence
If the Maker Movement hasn't made its way into your school, here are a few questions to ask yourself before getting started:
Equipment:

What equipment and tools will you need? How much will it cost? Do you need to involve other departments, such as IT?

Partnerships:

What partnerships can you build to receive funding or discounts for your Makerspace?

Location:

Where are you going to set up your Makerspace? (Classroom, library, cafeteria, gym, etc)
STEAM Makerspace Project Ideas:
There are many ways to incorporate literacy in a Makerspace project - don't forget about the A in STE(A)M!
Writing and making have a very similar iterative process. Editing in and of itself is the same thing as iterating in the Making process. Incorporating literacy into your Makerspace project can be easier than you think and a wonderful tool to ignite a love of reading and writing.
For example, inspire your students to write creative stories in Lulu Junior book-making kits, each individually or as a classroom project. Then, as a class, bring the stories to life through different mediums such as film, music, robots, legos, paint, photos, wood blocks, etc.  
Another way to spark a love of storytelling is through music! Encourage your students to write song lyrics in a Lulu Junior kit. After publishing, bring the story to life by creating music with instruments, everyday materials or tools, or even on the computer.
Last, writing can also be used as a reflective process to capture the learning from Maker projects. Instruct students to write about what they learned through the making process for each of their projects in their Lulu Junior kits. It's important to remember that the true learning doesn't always come from the final product but through the process of making.
Reimagine Your Classroom
Creating a Makerspace is a great way to encourage experiential learning in the classroom. However, you don't need a high tech laboratory to bring your Makerspace to life. Just having the Maker mindset in the classroom leads to powerful project-based learning. Instilling this mindset in students has long-term benefits as you prepare them to be valuable contributors to society.
Ready to redesign your learning space? Check out these resources below:
Maker Community

https://makerfaire.com/map/

(Map of Maker Faires)

Twitter Chats & Hashtags

#MakerEd

#STEM

#STEMchat

#STEAMchat

#STEAMMakerChat

#Makerchat

#Makerspaces

#Makerspace

#Makerfaire

#PBL

#PBLChat
Makerspaces, Project Ideas, & Additional Resources