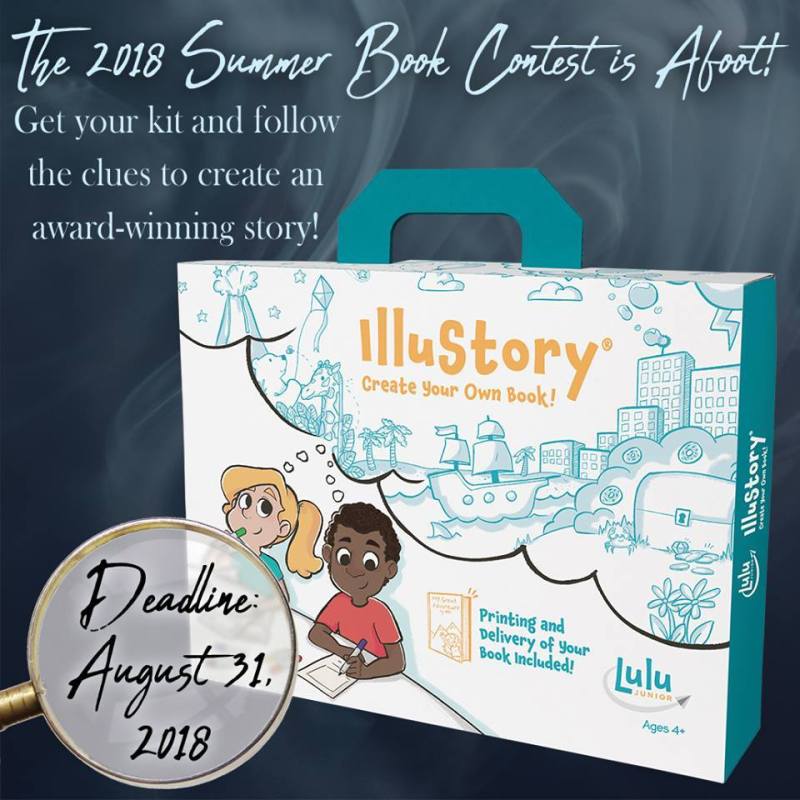 Uncover an Amazing Mystery: Rainbow Resource Center's Annual Writing Contest
Was it the General in the Pantry with the Candlestick? Or maybe a dastardly imposter in a ghostly costume terrorizing the community? Whatever your favorite WhoDunIt theme might be, you can bring to life with the Rainbow Resource Center's annual Writing Contest!
The Rainbow Resource Center (RRC) has provided parents and teachers high-quality, low-cost learning materials since 1989. With an inventory including over 50,000 textbooks and other learning materials with great bulk and shipping discounts, the RRC is a go-to for any educator looking to save money while employing the same books schools nationwide use.
The Summer Book Contest
This year marks the fourth year of RRC's Summer Book Contest. Each year, they choose a different theme and this year's theme is mystery fiction! The contest challenges kids and teens to write and illustrate their own original mystery using Lulu Junior IlluStory kits!
You can download or print RRC's Contest PDF that includes the Contest Rules and Grading Template.
Entrants use a Lulu Junior book-making kit to create their own original story based on the contest theme, then submit the book! Then, entrants must email RRC with the following information to be officially entered into the contest:
Name
Mailing Address
Parent Contact Name, Number, Email
Student's age as of 1/1/18
Story Title
Tracking Number (inside your kit)
Entrants get to keep their hardcover book and the judges will receive a digital version from us to judge.
How awesome is that?
It gets better.
The kits sold through RRC for this contest are selling for half price (for the first 500 sold)! The normal retail price is $29.99, but for a limited time, follow this link and get the kit for just $14.99:
RRC is offering free economy shipping too--just put a note in the comment box during check out.
Still not enough awesomeness?
Claim a Great Prize
Every entrant is going to get a $5 Dairy Queen gift card along with their printed hardcover book!
RRC will also pick a winner and runner-up in each of their three age groups:
The first prize winner in each age group will get a $250 cash prize, and the runner-up gets a $100 cash prize!
Last, an overall winner will be chosen to have their book published and sold by RRC!
Now that is amazing!
Solving the Mystery of a Great Book
It's time to help your young writer channel their inner Sherlock Holmes, Nancy Drew, or Scooby Doo and create a story of quick wits, unsolved crime, or surprising circumstances. Using text and illustrations, take us on an adventure!
The RRC Contest PDF includes awesome resources, such as the elements of a story and the steps in the writing process. Here are a few tips of our own to help make their mystery story the best it can be:
Develop the characters - start by making a list of the characters, including your main character and secondary characters.
Create the plot - in a mystery, the plot is a problem the main character has to solve.
Know how it will end - before your child starts writing, they need to know how the mystery will be solved.
List the clues - make a quick list of clues that will lead the main character to solve the mystery.
Add a "red herring" or two - these are clues specifically used to throw the reader off.
Think about the setting - where the story takes place will be important to the clues and the artwork.
Don't Wait!
The contest is open now until August 31, 2018.
Make sure to leave enough time for your kids to create their mystery and send it back to Lulu Junior for printing. Please allow for 2-3 weeks after submitting your kit to receive your hardcover book in the mail.
And remember, even if your they don't win, they get an amazing book they created and a $5 DQ gift card!
Cheers to summer writing!