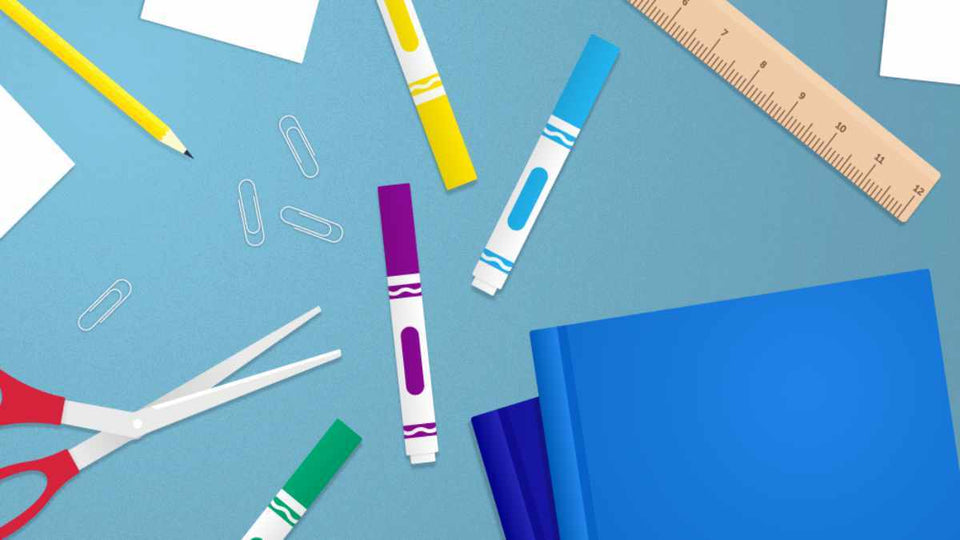 5 Easy And Creative Ways to Entertain Your Kids at Home
Whether it's the holiday break, summer vacation, or just another 3-day weekend, managing your tasks and staying productive while your kids are home is no small order.  
The temptation might be to simply install Minecraft on your iPad and sit them on the couch. But is that really a good way to entertain your kids? Or, more accurately, is it the only way?
Of course, you've got options! But who has time to constantly plan out activities?
Luckily for you, we do! Join us today with a list of creative activities to keep your kids entertained while at home!
E-Learning 
If you've got a tablet, this powerful and portable technology is a great way to entertain your kids. From educational games to guided learning programs, technology offers numerous ways to foster learning. Of course, there will always be concerns about getting 'glued to the screen,' but the only way to learn to use technology responsibly is to actually let kids use the technology. 
Many parents do have valid concerns about introducing technology to their kids, what age to do so, and to what degree.
Daniel Nations from Lifewire.com answers the question about using technology better than I could have: "Yes. Sort of. Maybe. In moderation."
Rather than going too deep into this subject, I suggest checking out Nations' article if you're considering how to use technology with your kids this year. 
Luckily, both Apple and Android devices have ways to help control screen time with simple time-out controls:
And both the Android and Apple stores offer a range of free educational apps that are entertaining all while teaching kids basic math to problem-solving to reading skills. Check out their apps:
Get Crafty
Alright, let's disconnect from technology. Craft projects are arguably an even more important and fundamental way to keep your kids entertained. It might take a little more interaction from you, but the payoff is well worth it. 
The kind of crafts your kids make can vary wildly. Simple projects involving popsicle sticks and glue are classic and easy enough to kickstart. It's even easy to tie in the crafts to any holiday, making ornaments or decorations. 
One of my personal favorites from childhood was making origami cranes. A simple craft but challenging and fun to master, if your kids like making things and you don't have access to a lot of materials, simple origami is a terrific way to keep your kids entertained.
Another one of my favorites was creating paper snowflakes. Learning how to fold and cut the paper can be difficult at first, but it's truly a fun project for all ages. Plus, the variety of patterns and designs makes for great decor for your house or tree! Once your kids have mastered the 6-point paper snowflake, have them take it up a notch and make 3D snowflakes!
How about sprucing up a regular canvas or paper with some fun designs and textures using some regular old painter's tape and making tape resists paintings? The artwork and creativity is endless with use of paint or markers. Just cut out stripes/shapes/words out of some painter's tape. Paint or color over it and remove and you have something way cool that adds dimension, texture, and some boldness!
Need more ideas? We've got them! How about creating a Gratitude Tree? This awesome project starts with sending your kids outside to find a branch or two, then they cut out leaves and adorn them with notes about what they are grateful for. The actual crafting is pretty simple, but the act of writing down notes of gratitude is terrific for kids of all ages.
If you're itching for even more crafty ideas, iheartcraftythings.com has a massive list of over 100 simple ideas using materials you most likely have on hand. I'm certain you'll find something in this list your kids will love creating!
Color
Everyone (and I mean everyone) loves coloring books these days. Coloring books are a classic way to keep your kids busy while engaging their creative mind. And with print-on-demand, finding interesting coloring books has never been easier.
So if you've got a kid (or a few) who need activities to keep them amused, coloring books are the perfect go-to. And with a coloring book, you can get hours and hours of entertainment over a longer stretch of time. How many kids are going to sit down and color every page of a coloring book in one session?
And best of all, coloring books are ultra-portable. Just a book and a case of colored pencils or markers are all you'll need to give your kids a fun, engaging way to stay entertained.
Need a couple of amazing coloring books you can buy today for your kids? 
---
---
---
Read
If your kids are old enough to be reading, give them a book! This is, without a doubt, the best way to keep your kids entertained. We all know how important it is to encourage kids to start reading early and keep reading. During this time when normal routines have possibly gone out the window, putting a book in their hands is the perfect distraction.
Because reading is so much more than a distraction. Reading is inspiration, it's a look into another world, a journey for the imagination. Instilling a love of reading as early as possible is one of the greatest gifts you can give your children. 
If you're not sure exactly what to give your young reader, here are a few great books from the Lulu Bookstore:
---
---
---
---
Can't get enough book recommendations? Follow our awesome Pinterest board for even more books for your kids to enjoy!
Make a Book!
Yeah that's right. You can give your creative kids a project they'll cherish for years to come. With a Lulu Junior Kit, your kids can create a story or comic book using templates and our guidebook. Once they've created their amazing book, send it to us (prepaid envelope, of course) and we'll print and bind it into a real book.
No kidding! Lulu Junior Kits give your kids a beautifully printed book to read, share, and keep for years to come. 
Grab a kit now and you'll have a sure-fire way to keep your kids busy (and learning!) without planting them in front of a screen.
What are some of your favorite activities to keep your kids entertained? Share it with us in the comments below.
Pin It For Later!