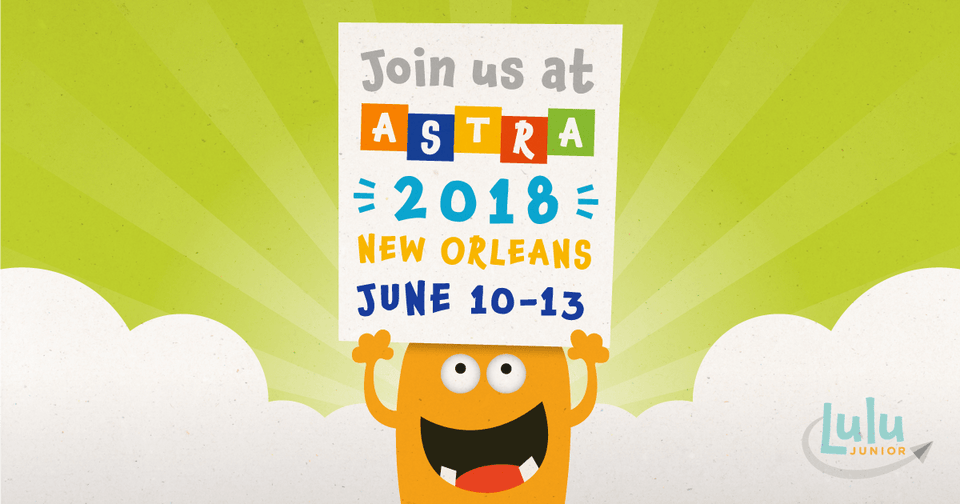 Lulu Junior goes to ASTRA!
At Lulu Junior, we believe firmly in the power of play as an educational tool. Children (and adults) engage in play for a variety of reasons - to relax, to engage with friends, to pass time, to stretch their limits. And the quality of play is often tied directly to the toys they have access too.
That is one of the driving forces behind Lulu Junior: to make toys that engage kids in imaginative, learning experiences. Studies show that reading to kids helps build their vocabulary and expose them to uncommon words.  Additionally, the National Education Association lists data revealing that reading to kids promotes memory, counting and vocabulary skills, and can establish a desire to read as they grow.
Because Lulu Junior book-making kits not only promote reading but writing, we believe strongly in the importance of our products. And that's why we make an effort to attend the ASTRA Marketplace & Academy (ASTRA 2018) annually.
ASTRA (American Specialty Toy Retailing Association) is an "international not-for-profit trade organization that serves more than 1,800 independent retailers, manufacturers and sales representations of the specialty toy industry." They help products like our IlluStory and My Comic Book kits find their way to independent retailers, and from there into the hands of eager kids.
Lulu Junior will be attending ASTRA 2018 this year to build awareness about our kits, get feedback from our current retailers, and meet new retailers!
The Academy
Starting on Sunday, June 10th and running through Wednesday, June 13th, the Marketplace & Academy event in New Orleans will highlight a variety of educational workshops and speakers, including a keynote by Peter Sheahan.
The Academy event itself is structured around 6 "learning tracks" ASTRA has identified as being important to educators and toy retailers:
Business Operations
OpenSpace
Children & Play
Industry Trends & Relations
Financial Management
Sales & Marketing
Each session is tagged with a different track, allowing attendees to direct their experience at the Marketplace & Academy event to fit their needs. For example, the Children & Play track a "Play Through the Ages" workshop examining the history of play, a "Power of Play" workshop that explores the value of play-based learning, and "Becoming a Community Resource Center" to teach how play resources can work for the betterment of the community.
The Marketplace
ASTRA 2018 not only hosts workshops and learning sessions but provides a Marketplace for vendors and retailers. During the trade show, vendors - like Lulu Junior - will present their products to retailers. This is how Lulu Junior kits end up in toy stores around the country!
Thanks to this event, we have been able to connect with other independent retailers who value education in play. One of our retailers, Imy Marcus from the Toy Chest, says Lulu Junior kits are a hit with kids and parents alike! For Imy and his customers, Lulu Jr makes an impact because it's engaging, allows kids to create something they can be proud of, and brings happiness to kids, parents, and toy sellers!
If you are attending ASTRA 2018 in June, be sure to stop by the Lulu Junior booth #1041 to say hi to the team and learn even more about our kits.
Don't forget, ASTRA members enjoy special rates at the event as well!
ASTRA Member Specials
15% off all orders placed through 7/31/18
10% off all re-orders placed through 12/31/18
Free Shipping for all orders over $350
Follow us on Instagram to stay up to date on all the happenings around ASTRA's Academy & Marketplace 2018 - @lulujrdotcom